Mediterranean Refresh Book Review 2022
The Mediterranean Refresh is the perfect beginner's guide to the Mediterranean Diet.
If only I could lose 5 more pounds.
How many times have you thought that?
I know I've thought about it many, many times. More than I'd like to admit. Honestly, I've been trying to lose weight since I learned what weight means. And I know I'm not alone.
But why do we feel this way?
Stay with me here.
What if we want to lose weight because of reasons outside our control? Think about how many weight-loss ads you see. Think about all the famous and thin models on your news feed. We're exposed to so many (falsified) that we've learned to want it. We've learned that losing weight will make us prettier and healthier.
But what if it's not true? There are many 'fit' people out there still struggling with self-image and food.
So what I'm thinking is that healthy eating doesn't have much to do with weight. I think it's more about unlearning toxic behaviors and putting ourselves first.Healthy eating is about having a healthy relationship with food.
And in order to have a healthy relationship with food, you have to start somewhere. Which is exactly what I did.
The result?
I wrote a book. The Mediterranean Refresh is a collection of Mediterranean-inspired recipes that helped me achieve my goals.
I spent more than a year researching various diets, foods, and consulted dietitians and doctors. I wanted to find a balance between the nutritious and delicious. I wanted to feel energized and full. I wanted to feel comfortable in my body and comfortable around food.
Why Do So Many Diets Fail? (Mediterranean Refresh Book Review )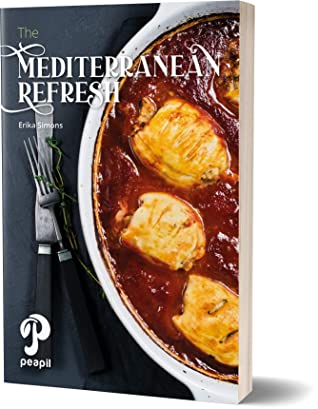 When I began my research, I discovered that the typical American diet only works when paired with excessive exercise. I resented that companies tricked me into thinking their tasty food was healthy. With so many hidden calories and few fats, it was clear they wouldn't work. Many studies have found that low-fat foods have more sugar than their regular-fat counterparts.
Life gets busy, and not everyone has the chance to exercise regularly. With such a high intake of calories, the only way to lose (or even maintain) weight is exercise.
Consulting professionals led me to the Mediterranean Diet. It consists mainly of healthy fats and vegetables, all sprinkled with enticing spices to keep things interesting.
Goodbye to all those bland salads!
Slowly, I added Mediterranean recipes into my usual diet. I knew I had to make the change a thoughtful one. I tracked how I felt, how my stomach reacted, and how hungry I got.
After a month, my entire diet was Mediterranean-based. And I was glowing. I even stopped tracking everything because I knew the diet worked. I felt energized. I felt full. But most importantly, I felt free. I wasn't focusing on weight loss, I was focusing on me. And being me felt better than ever.
My experience inspired me to create The MediterraneanRefresh. I knew I wasn't alone. And I know firsthand how much people can struggle with food.
So I'm here to tell you that if I can do it, you can. My book isn't for chefs, it's for everyone. I made my book accessible because everyone deserves to heal. And everyone deserves control over their health.
Fun Fact: Diet refers to the food eaten by an individual. It doesn't always mean restricting!
Overview of Mediterranean Refresh Book
As a kid, I visited my grandparents in Greece. I fell in love with their way of living and delicious meals. Life was slower paced, and connection is the foundation of it. Food is a way people connect. Sitting down to dinner gives us the chance to share our experiences.
Needless to say, the childhood trip changed my life. I'm now a recipe and lifestyle coach with two New York Times bestselling cookbooks.  
Mediterranean Refresh Book is A recipe book with immersive 4K, full page images, delicious recipes, and an introduction into the Mediterranean Diet. Customer has to pay shipping only of $9.95 No brandbidding on the word Mediterrenean Refresh.
The Mediterranean Diet isn't about losing weight or cleansing, as much as advertisers love to announce it as such. It's a grounded way of eating that nourishes you while tasting amazing! The vivid flavors paired with the many health benefits are what makes the Mediterranean Diet unique in days of Paleo, Alkaline, and Raw Diets.
So what is the Mediterranean Diet?
Mediterranean Refresh is the perfect beginner's guide for sparking inspiration.
It includes:
100+ recipes
Thousands of 5-star reviews
256 pages
4K images
Dessert and snack recipes
Included note pages
Swap calorie counting and bland salads for delicious meals that balance health and satisfaction!
The diet focuses on four group groups:
Protein – think poultry, seafood, and legumes!
Healthy Fats – think olive oil, avocado, and nuts!
Unrefined Carbs – think whole grains, quinoa, and oats!
Non-Starchy Vegetables – think spinach, broccoli, and mushrooms!
Within these four groups, you have a lot of room for experimenting! And none of them even cover the zesty herbs commonly used in Mediterranean cooking. Spices are the secret weapon that makes a good dish a great one.
The Mediterranean Refresh is the perfect place to start.
With immersive 4K, full page images, delicious recipes, and an introduction into the Mediterranean Diet,
you'll feel confident making this transition
Features of Mediterranean Diet 
Detoxes the liver & colon
Maintains your ideal weight
Stimulates your heart health
Health Benefits of the Mediterranean Diet
Increase heart health: There have been many studies researching the heart-health benefits of the Mediterranean Diet. The results? People who stick to it reduce their chances of heart problems by 30%!1.
Support weight loss and maintenance: Thanks to the whole, fresh foods, the Mediterranean Diet can help people lose weight and maintain the loss! A 5 year study found that the diet outpreformed low-fat diets—the participants had smaller waist measurements at the end of the study.
Prevent cognitive decline: The Mediterranean Diet isn't just for heart health and weight loss, it also benefits your memory and cognition! Many studies have concluded this finding. But one in particular discovered that individuals who stuck to the diet were far less likely to show signs associated with dementia!
May protect against Cancer: A review of 83 studies found that the Mediterranean Diet reduced the risk of cancer, especially breast and colon/rectal cancers.4 This effect is believed to occur due to the fruits and whole foods of the diet.
Support health blood Sugar level: Since the Mediterranean Diet involves fresh and nutritious-dense foods, it can stabilize blood sugar and protect from type 2 diabetes.
Why does it have so many benefits? Because the diet focuses on whole, healthful foods instead of processed, convenient ones. And while this may translate to a bit more cooking, that's why my cookbookーThe Mediterranean Refreshーcomes in!
How Can You Refresh Your Diet?
Fat is our body's main energy source. If you stick to low-fat foods, you'll find your energy levels all over the place. Not to mention the increased risk of diabetes, heart disease, and heightened blood pressure.
But I want to teach you that balancing heart-healthy fats doesn't have to be time-consuming or bland. And I know exactly where you can start…
With a FREE copy of The Mediterranean Refresh!
I want you to reach your goals too. I'm not the only one that deserves a chance to mend my relationship with food! I want you to know you're not alone. Diets aren't easy, but they shouldn't be so hard.
Mailed straight to your door, this physical 256-page recipe book will refresh your diet. Experiment with over 100 zesty recipes and find your renewed energy! From Lemon Ricotta Pancakes to Roasted Lamb with Velvet Black Olive Sauce, these meals will invigorate and inspire you.
Does using a Mediterranean Refresh Book Actually Work?
When I set out on this journey, it was for me. But this book is for everyone!
It can be tough to make these changes. And I'm definitely not saying that it's going to happen overnight. Remember, it took me an entire month to make the switch. But there are so many great things that come with transforming your diet.
What is the importance of the Mediterranean Diet?
The Mediterranean Diet is about showing yourself love with healthy, but delicious foods. It's about being happy with who you are and ensuring your diet benefits you mentally and physically! It won't be an overnight change, but you will feel lighter and energized on the Mediterranean Diet.
You can get started with my FREE Mediterranean cookbook and unlock the confidence you've been waiting for. This choice is for you.
And you won't be alone. There's a whole community of Mediterranean Refresh customers who love their new diet!
Customer Reviews (Mediterranean Refresh Book)
"Love this book! The recipes are varied and easy for a "non-chef" to follow. It has added so many wonderful new meal ideas to our previously boring menu! I also love that the food is all good for you!!"
Vicki Wolpa
"Have tried Keto, Paleo and low fat and carb. This does not limit to one type of food and you feel satisfied after a meal. Give it a try. I definitely recommend this cookbook."
Randy O.
"I love everything about this book. Recipes are delicious and easy to fix. Does not overwhelm you with ingredients. All I can say is I love love love this book. If you like Mediterranean dishes you will appreciate Mediterranean Refresh."
Jenny
Finally Verdict: Mediterranean Refresh Book Review 2022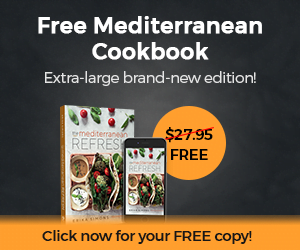 Put yourself first and embrace a healthy relationship with food. Try The Mediterranean Refresh!
What's beautiful about this book is that you can slowly add fueling foods to your daily routine. Just like I did! Whether you skip take-out lunches for tasty Tuna Pita Pockets or replace sugary drinks with Fruit Detox Water, you'll be on your way.
But this is more than just a book. The Mediterranean Refresh is a lifestyle change. It's a change in the way we interact with food and our bodies. This diet is about showing yourself love with healthy choices.
This book is for everyone – even inexperienced cooks! Each step is thoroughly explained and each recipe straightforward.
We're all busy, which is why none of my recipes require fancy techniques or hard-to-find ingredients. Flip to a page, imagine the mouth-watering smells, and get to work (but not too much!).
I hope that once you read this book, you'll join The Mediterranean Refresh community with those on the same journey as you.
There's absolutely zero commitment that I'm asking of you or hidden charges. I just want to share my experience because everyone deserves a (re)fresh start! This book is something I wish I had when I began my journey.
Together we can unlearn unhealthy beliefs and move toward fulfilling ourselves. Health is not a number, it's a lifestyle.
Join me and thousands of Americans on their Mediterranean journey with The Mediterranean Refresh today!