Byte provides eligible customer orthodontist-directed treatment using invisible aligners through remote monitoring that's done from home. The company is a member of the Better Business Bureau with thousands of 5-star Byte Aligner reviews, and a proud member of the American Teledentistry Association.
Byte is featured in numerous media, including Business Wire, TechCrunch, Forbes, Bloomberg, Yahoo! News, NBC Los Angeles, People, the Seattle Seahawks, and the New York Post.
This past spring, actor Kerry Washington joined Byte as a Creative Advisor and Investor. Byte sure is popular, but do they live up to the hype?
This Byte review will take an in-depth look at the brand and its products, customer ratings, promotions, and more, to help you decide if Byte teeth products are worth the buy.
VISIT BYTE official website here
General studies about byte Aligner ( byte Aligner review 2021)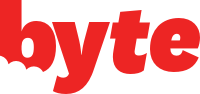 Byte utilizes a unique teledentistry platform to make it easier, faster, and more affordable for people to get the orthodontic work and better smile they've been wanting.
The company, created in 2017 and launched in 2019, is based in Los Angeles. Byte works with over 200 licensed doctors, orthodontists, and dentists across the US who prescribe and oversee every treatment plan with Byte clear aligners.
Byte treats people from aged 12 and up who have all of their adult teeth along with a Byte orthodontist's approval to safely receive teledentistry. Using invisible, plastic, custom-fit aligner devices, Byte is designed to align teeth in a minor to moderate way.
This includes spacing, crowding, and rotation corrections. Gradually over time, your teeth shift to become straighter and improve your smile. The next portion of this Byte aligners review will look at how Byte works:
Byte home impressions are shipped to you and will indicate whether you're a good candidate for Byte. The process takes about 15 minutes and there are easy-to-follow instructions, including how to return the impressions with free shipping.
Once received, your impressions are used by Byte orthodontists to create your personalized treatment plan. This includes using several photos for their "Smile Science" to observe your face proportions, features, and symmetry to design the best smile for you.
Using remote monitoring throughout treatment, your doctor tracks your progress with Byte.
Now that you know what Byte is about, this Byte aligners review will delve into the advantages and disadvantages of what they have to offer.
Advantages ( byte review 2021)
A variety of clear aligners to choose from
A straightforward, easy treatment process
Doctor directed care offered
No in-office visits necessary
Free HyperByte dental movement acceleration device included
Shorter treatment time than traditional orthodontics
Lifetime guarantee
Disadvantages ( byte review)
Customers cannot engage with orthodontists and be treated in person
Higher prices compared to similar aligner treatments
Complicated insurance reimbursement process
A Byte teeth straightening kit, or an impression kit, gets you started along with two types of aligners for your teeth. You can choose whether to use them day or night; pending your orthodontist's approval, you wear the aligners in the way most comfortable for you.
Another thing, this Byte aligners review showcases these products, along with the signature Byte dental movement acceleration device, whitening kit, all-in-one foam cleanser, whitener, and breath freshener.
This Byte aligners review will now dive into the top-selling aligners and the plans offered with them.
Byte All-Day Aligner review
Byte All-Day Aligners are custom invisible aligners that gradually and safely move your teeth to where they should be. You wear each aligner for one week, then move on to the next set for the duration of your program. To improve comfort and speed up results, you also wear HyperByte for 5 minutes each day (HyperByte is included for free, see details below).
Byte All-Day Aligners help you straighten teeth at home. These are to be worn for at least 22 hours each day and only removed when eating or drinking. The highly transparent aligners are made from BPA-free, medical-grade, tear-resistant polymer film. They're also smoother and 88% more stain-resistant than others, which has been scientifically proven.
When the instructions for use are followed correctly, it takes just 3-4 months to see results, which happens to be the fastest turnaround time in the industry! Byte All Day Aligners will cost you $83/month for 29 months ($2,407 total), with a $349 deposit.
TRY BYTE ALL DAY ALIGNERS Review
If the thought of wearing your aligners during the day leaves you cringing (fair!), check out Byte All-Night Aligners.
These work while you sleep to straighten your teeth. The night version of Byte aligners are made with a thicker medical-grade polymer, BPA-free, grind-resistant material—so if you grind your chompers at night, you're killing two birds with one stone.
The aligners require a minimum continuous 10 hours of wear along with HyperByte for 10 minutes a day. Once you have doctor approval, you'll see results and feel less discomfort in about 5-6 months. Byte All-Night Aligners will cost you $99/month for 29 months, with a $449 deposit.
Byte Aligner impression kit review
The Byte Impression Kit includes trays, molding putty, putty gloves, and a smile stretcher. You use this kit by following the instructions to send back your teeth impressions (at no shipping cost). Then, Byte orthodontists examine the molds to create a treatment plan for you, which includes an interactive 3D model. Cool!
Your custom aligners and treatment plan gets delivered to you after that. The Byte Impression Kit is on sale for $30 (originally $95).
Byte HyperByte Review
HyperByte is Byte's safe and proven dental movement acceleration device. Using micropulse from vibration-based therapy (High-Frequency Vibrations), commonly used by orthodontists, HyperByte is included for free with each treatment plan.
HyperByte gets through the roots of your teeth to the bone around them and positions your aligners to move your teeth and increase cellular activity. This process increases comfort, helps better position aligners around your teeth, speeds up teeth movement, and reduces treatment times (by about half!).
The HyperByte device is to be utilized with your aligners, once a day for 5-10 minutes. HyperByte is included and only available while participating in Byte's treatment but, should you ever need a replacement, you can buy it for $699.
Byte Snow At-Home Whitening Kit review 2021:
Byte offers a professional-grade whitening kit, the Snow At-Home Teeth Whitening All-In-One Kit, which safely removes stains using cold light technology that won't erode enamel. By spending 10 minutes a day, your teeth will be whiter in as little as 3 days.
Results are guaranteed and Byte offers a 5-year warranty. Bonus for anyone with dietary restrictions or ethical considerations: the gel is:
Vegan
Soy-free
Gluten-free
Lactose-free
The Snow At-Home Whitening Kit includes a mouthpiece with patent-pending LED accelerating technology, 3 whitening wands for the serum, an extra-strength whitening serum wand (with double the power), and teeth whitening progress tracker.
You can get your hands on the Snow At-Home Whitening Kit for $149, marked down from $199. Read our full review on Snow Teeth Whitening here.
Byte BrightByte Review:
Included in the treatment plan is BrightByte, a 3-in-1 foam cleanser, whitener, and breath freshener (plus bacteria destroyer!). With this system, you don't need to soak or rinse your aligners and your teeth get whitened without sensitivity.
The process is simple: brush your teeth and, once clean, pump BrightByte foam once into your aligner or retainer trays, and spread it evenly throughout your mouth. This 3-in-1 teeth cleaner can be yours for $30.
This Byte aligners review continues below with a look at real customer reviews for Byte products and treatment.
Does Byte Take Insurance? ( byte Aligner kit review)
You may be wondering, how much is Byte with insurance? Byte doesn't take payment directly from insurance companies, but it's possible to be reimbursed for Byte aligners directly by your insurance company if you get orthodontic benefits with your dental coverage. If needed, Byte can provide the required forms to file a claim.
How Long Do You Wear Bytes? Byte review 2021:
Byte treatment plans vary in duration depending on the person, but the process typically takes 2-4 months. Because of HyperByte, this is much faster than the competition.
Who Is Byte For? Who need byte? :Byte Aligners Review: 
Byte is made for those that are in need of minor alignment for their teeth. Since this brand relies solely on home kits and processes, the Impressions Kit will be the only way to know for certain that Byte is for you and can fix the oral issues.
If Byte determines that their products are not for you, then they will provide you with a full refund.
Byte Aligner Reviews: What Do Customers Think ?
One of the biggest question in this Byte Aligners review is: does Byte really work? Byte aligners reviews indicate that the treatment is highly rated by customers.
Consumer Affairs shows a 5/5 star rating based on 1,887 reviews from the past year, Best Company gives Byte 4.8/5 stars based on 2,788 reviews, and 321 BBB reviews give Byte a 4.47/5 stars. Very impressive!
Most people liked the simple and easy process, short treatment time, the Byte All-Night option, and that HyperByte is included for free.
Trustpilot also had a lot of good things to say about the brand, with over 3,240 reviews and a 4.8/5 star average. Many of these reviewers also loved the effectiveness of the aligners to straighten their teeth quickly and painlessly. As one reviewer stated:
"I am about halfway through with byte and I am so happy that I chose them. You can see my teeth getting straighter every time I put a new liner in. The cost is affordable and the customer service has been amazing! I definitely recommend it!"
Are Byte Aligners Worth my money?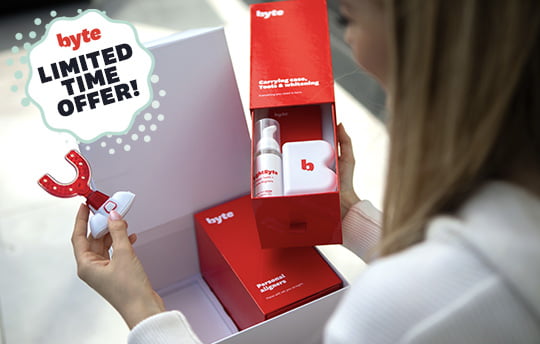 This Byte aligners review will provide our impression of Byte and whether or not its products and treatment plan are worthwhile. Based on the research we conducted, choosing Byte is a good move, provided you're willing to pay more for faster results.
The simple and easy process, short treatment time, payment and payment plan options, and elements like HyperByte and Byte All-Night make Byte stand out from the competition and appear to be worth it.
Keep in mind that even the most reputable brands will have some negative reviews. If issues do come up, Byte has Aligner and Byte-for-Life guarantees (for more details, check the FAQ section of this Byte aligners review).
Byte is offering our readers a very exclusive offer which they were kind enough to share. The Impression Kit is normally $95, however, today you can get 70% off and try them for only $30. So if you're considering trying Byte, now would be the best time to do so.
Byte is also offering free shipping and guarantees your smile for life (more on that in this Byte aligners review, below).
Where can i Order Byte Aligners
Byte Aligners Review
You can buy Byte products directly from them by visiting ByteMe.com and navigating to the Shop page.
FAQ( byte Aligner kit review)
How long does Byte take to ship?
Byte ships to all states within the US and at no charge to you. It takes about 4 weeks from when you purchase your impression kit (assuming you return it right away) to receive your aligners and begin treatment. Conveniently, you can opt in to receive SMS messages with shipping updates.
How do I cancel Byte order?
When you buy an impression kit, Byte's dentists and orthodontists create an ideal treatment plan. If they determine you're not a good fit to get great results from Byte, they'll inform you and issue a refund for your impression kit.
Byte offers their Aligner Guarantee, which uses their "Smile Science" to straighten your teeth and complement your facial features. To achieve this, Byte needs you to follow certain guidelines:
Wear your aligners every single day for at least 20 hours a day, except when you are eating or drinking anything besides water.
If you are using HyperByte, this needs to happen for 5-10 minutes a day, every day.
At the indicated check-in times, upload separate photos to your account (taken when you're not wearing your aligners) of both your upper and lower teeth.
After following these guidelines if you're unhappy at the end of your plan, contact Byte within 15 days of your original prescribed treatment end date. Their team will re-evaluate your results and you could be eligible for additional aligners.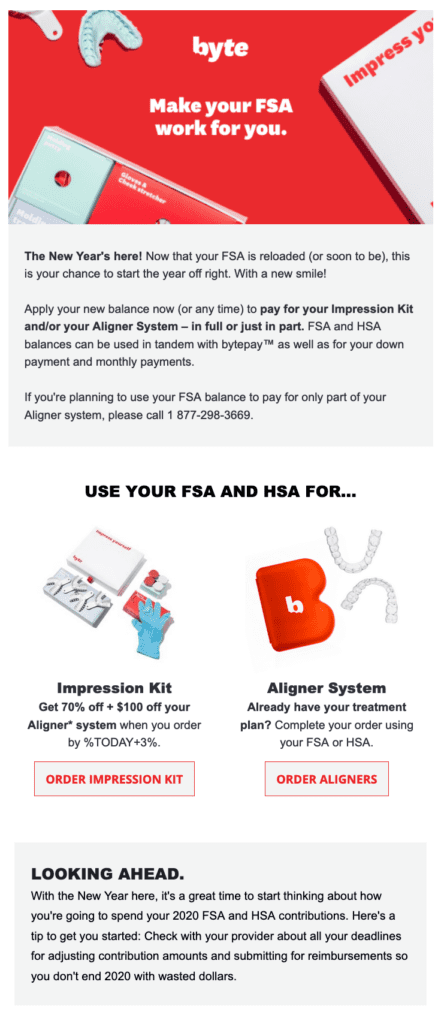 Byte also created the Byte-for-Life Guarantee. This means they will always guarantee your smile and offer additional lifetime treatment, at no extra charge, if your teeth ever move out of alignment. Including any unwanted movement away from your smile after treatment.
This can show your treatment plan and Byte retainers used were carried out as instructed. If your teeth happen to become misaligned, you will receive additional impression kits and treatment plans, with aligners. You should note that teeth covered in this guarantee are:
Those originally involved in your Byte treatment plan,
Not any that have been affected or changed by physical outside circumstances, trauma, or other health reasons, and
Not missing, or affected by other dental or orthodontic treatment outside of Byte.
What is the Byte Return Policy?
Byte does not take returns and they will only exchange damaged products you might receive, so be aware that exchanges are not accepted for any other reason. If your product is damaged, just email support@byteme.com to get the process started.
How to Contact Byte customer service
You can reach the Byte customer service team anytime at byteme.com/pages/contact. Get answers to your questions or concerns through a few ways:
Text 310-272-5019
Call 1-866-742-6573
Facebook message to messenger.com/t/byteofficial
Email support@byteme.com
On the hunt for better oral care? Learn about the Belissas teeth Whitening nd minimize your carbon footprint with sustainable Bite Toothpaste Bits.