Nom Nom pet food Reviews:
We all want our dogs to have a balanced and healthy diet to ensure they have active and happy lifestyles.
Just like humans, dogs have certain requirements that need to be met in their diet, such as crucial vitamins and minerals to maintain their overall health.
If you own dogs like me, you'll know there's nothing worse than seeing your dog not eating their dinner. It can be a stressful situation as you ponder your next move.
While you may be familiar with traditional brands that you find in the supermarket or pet store, there's been a shift towards freshly cooked dog meals over the past few years.
If you work a full-time job, you might struggle to find time to make home-cooked meals for your dog, especially when you've already got your own meals to prepare.
Trying to get the portions right to ensure home cooked meals include the necessary ingredients to meet your dog's daily requirements can be a confusing experience.
That's why I appreciate the value Nom Nom pet food delivery company can provide. They prepare your dog's meals on a weekly, bi-weekly or monthly basis and ship them right to your door.
Nom Nom Now's Food Delivery Service for your pets
Recipes developed by a board-certified vet nutritionist
Highest-quality fresh ingredients
Strong support on your pet's journey to better health
So many individuals are realizing that proper nutrition is just as important for pets' health as it is for ours. That's why many pet owners are searching for healthier alternatives instead of canned foods and kibble that are often made with highly-processed ingredients.
Nom Nom Now is a pet food company cooking high-quality meals with real ingredients for your dogs and cats. These meals are formulated by Dr. Justin Shmalberg, DVM, to ensure the perfect nutrient balance that will help your pet thrive.
Read our Nom Nom Now review to find out how this dog food delivery service works and what makes it different from the stuff you buy at your local pet store.
GENERAL KNOWLEDGE ABOUT NOM NOM PET FOOD: Nom Nom now Dog food Reviews US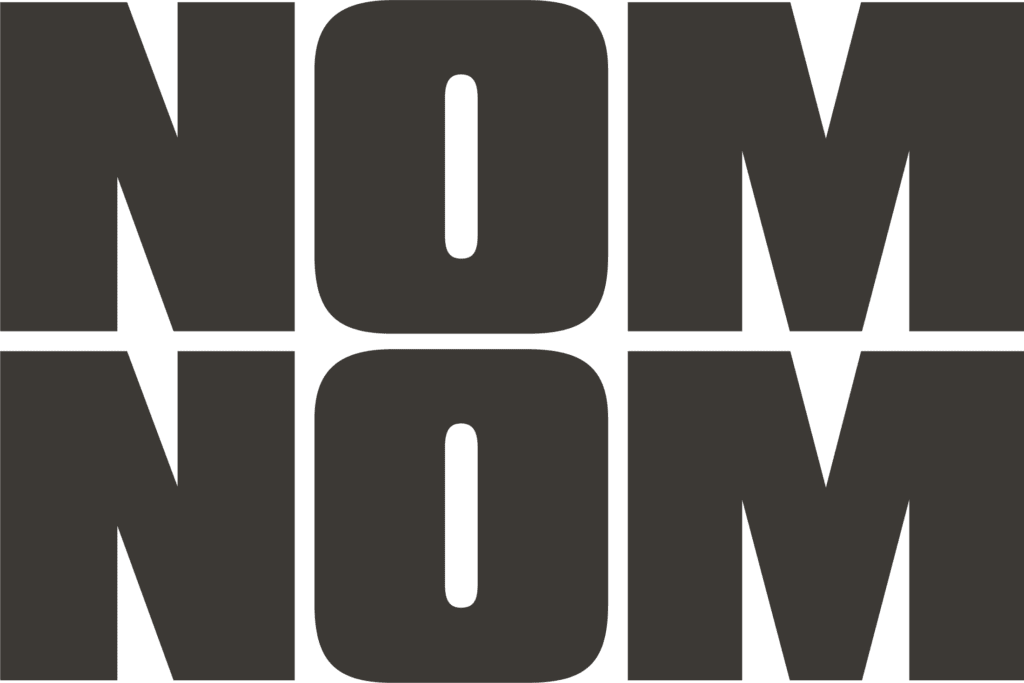 Nom Nom is so much more than an easy pet food brand. The company assimilated how important healthy food is for our four-legged friends, but they offer more than nutrition.
From informative blog posts that should help all owners learn more about their cats and dogs to the Adoption Program that connects animals to their new forever home, Nom Nom does it all. And on top of that, they sell some of the best quality cat and dog food, tasty treats, and supplements that support your furry friend's health.
Nom Nom's complete holistic approach to overall pet health is led by Dr. Justin Shmalberg and microbiologist Dr. Ryan Honaker, and an in-house team of PhDs. They design all cat and dog food formulations and also initiate research between nutrition and animal health.
We'll talk more about it in a bit, but for now, let's review what Nom Nom service is all about.
When you decide to get started with NomNom, you'll get a questionnaire about your pet. There you'll select whether you have a dog or a cat, their breed, age, weight, body type, weight goal, activity level, dietary restrictions, eating preferences, and more. You can also do this for multiple pets and even get a discount for multi-pet orders.
Once Nom Nom receives all the information about your pets, they adjust their recipes and portion sizes to perfectly fit their needs. All meals come pre-portioned, and all you have to do is serve your cat or dog some fresh food, and they'll gobble it up right away.
You can choose delivery frequency so that you never run out of fresh food. You can have Nom Nom meals delivered every week, every two weeks, or every four weeks.
And best of all, you can easily edit all of this information online, skip a delivery, or cancel your subscription at any time.
Nomnom money back guarantee Reviews
Nom Nom has a Money Back Guarantee if you are not satisfied with their products. However, you need to let your pets eat fresh food for at least 30 days, and if you don't see a difference, you can receive a full refund.
Benefits of Nom Nom pet food delivery: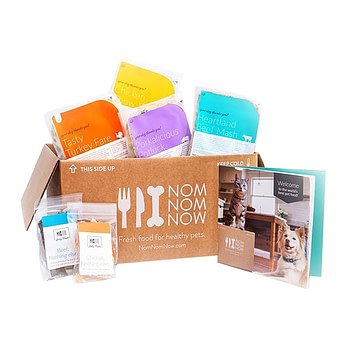 Nom Nom subscription has several benefits, including a personalized meal plan, early access to new recipes, supplements, treats, and other products, and occasional surprises with your regular orders. However, if you don't want to go for a subscription, you can choose a one-time delivery of their Variety Packs.
With a Variety Pack, you get a mix of different pet meals to get a glimpse of what the service looks like. However, the downside is that they are standardized and not explicitly tailored to your pet's needs.
NomNomNow often has different promotions, and at the moment, new customers get 20% off their first order.
What are the sciency thing about Nom Nom: Nom Nom dog food delivery Reviews
Microbiome Analysis: Nom Nom pet food delivery reviews 2021:
The microbiome is a word that describes different microorganisms living in your gut. All gastrointestinal systems are populated with different bacteria strains, and many are essential for their host normal functioning.
In fact, more and more studies connect gut health to various health conditions and overall well-being.
So, what does that have to do with NomNomNow?
Well, the company provides a Microbiome Test Kit delivered to you with detailed instructions on how to get a stool sample from your pet.
After sending it back to the company, you get an in-depth analysis with a full report on your dog's health. It can uncover the causes of some underlying health issues, mood swings, behavioral changes, and weight fluctuations.
Besides the full assessment and analysis, you'll also receive recommendations on your pet's nutrition, lifestyle changes, or potential supplement use.
And in return, the company uses this information for valuable research on links between gut health and many conditions in cats and dogs, as well as new food formulations.
Is Nom Nom dog and cat food any good?
Perfectly good, Nom Nom pet food is made with fresh ingredients that are safe for human consumption. Everything adheres to AAFCO standards, and the food is prepared in human-grade kitchen quality.
It's cool that the company really wants to oversee every little part of the production, from the recipe creation and research to the whole manufacturing process, ensuring that you only get the best quality products.
The produce and meat all come from trusted US farms, and the company tries to buy the most sustainable options and reduce waste as much as possible. Every high-quality ingredient is cooked separately on low heat to avoid losing nutritional properties, and then they are mixed into delicious (as told by our pets) cat and dog meals.
Dr. Shmalberg has developed a unique algorithm that takes the information about your pet into account and calculates how many calories it should eat and the macronutrient content of those calories.
That way, you always get perfectly portioned meals delivered to your door, and all you have to do is serve them to your four-legged friend.
When you set the ideal weight goal, Nom Nom meals are specifically tailored to hit them in an appropriate amount of time, which will also allow your pet to experience full health benefits.
Health Benefits of Nom Nom pet food
Below are the weekly step by steps benefits of using Nom Nom pet food
Week 1 – You'll notice your pets are more excited around mealtimes, and they also have more energy.
Week 2 – Their bowel movements begin to improve, and they lose some of that specific breath smell.
Week 4 – The change is now visible on their coats as the fur becomes softer and shinier. There is also less shedding.
Month 3 – You'll see a significant weight loss, and they may even hit the target goal at this point. Your pets will have more energy.
Month 9 – Your pet should be healthy and happy all-around.
You don't have to worry about your food sitting on the shelf for months, as Nom Nom delivers everything within days from cooking. That way, they ensure you are getting the freshest high-quality meals that will make your furry best friend happy.
What types of pet food does Nom Nom consist of: what do I expect?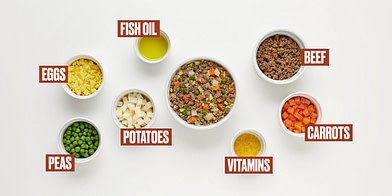 Nom Nom is all about good fresh food with no added preservatives or fillers. When looking at their pet meals, you can see exactly what goes in, and their pet food actually looks like food. Here is a glimpse of what you can expect.
Nom Nom now Dog Food Reviews:
Tasty Turkey Fare – Ground turkey, brown rice, eggs, carrots, spinach, and fish oil
Pork Potluck – Ground pork, russet potatoes, mushrooms, green beans, yellow squash, kale, and fish oil
Chicken Chow Wow – Diced chicken, sweet potatoes, spinach, yellow squash, and fish oil
Heartland Beef Mash – Ground beef, eggs, russet potatoes, peas, carrots, and fish oil
Nom Nom Cat Food Reviews
Chicken Cuisine – Chicken thigh, chicken breast, chicken liver, carrots, and spinach
Nom Nom Treats and Supplements Reviews
Treats – Beef and chicken jerky
Supplements – Full Spectrum Probiotics for Dogs, GI Targeted Probiotics for Dogs, Full Spectrum Probiotics for Cats, and Joint and Mobility Support for Dogs
NOTE: You can choose a delivery frequency that works well for you, and the options include every week, every two weeks, or every four weeks.
The food ships within days from cooking, so you can always expect to receive fresh pet meals.
How do I preserve my Nom Nom pet food
Everything is safely stored in insulated containers, packed in a box with gel ice packs, to ensure proper refrigeration during transit.
You should store your Nom Nom food in the fridge or freezer, depending on when you want to use it.
Frozen meals can last up to 6 months.
Customer reviews about Nom Nom pet food: Nom Nom pet food Reviews 2021:
NomNom has an average rating of 4.9 stars out of 5 based upon over 6,000 reviews, Of these, 98 percent are excellent or great. It's encouraging to see such a high rating based upon a huge volume of reviews.
One customer revealed how her dog with a sensitive stomach is now finishing meals every dinner time:
I have two dogs, one a rescue with a sensitive tummy. After years of trying every dog food on the market, Nom Nom now is "the One". No food is wasted, no tummy issues anymore. His coat shines, even the white areas shine. He recently had blood tests with the vet and for an older dog (13 ish), the vet is very happy with his condition.
Another dog owner joked that the Nom Nom Box's meals smell so good, they make her feel hungry when she's serving up for her pup:
The Nom Nom food is hands down the best dog food my pup has eaten, she loves it. In fact, it smells so delicious that I would warn against warming it up when you're hungry! Their customer service is first class and very friendly. I have had to get in touch once or twice in the past and it has always been resolved quickly and efficiently with their super friendly staff.
FREQUENTLY ASKED QUESTIONS ABOUT NOM NOM PET FOOD DELIVERY:
Q: Does NomNom pet food cost much?
Nom Nom meal pricing depends on many factors, including breed, size, age, activity level, diet preferences, and other. When the company calculates your pup or cat nutrition needs, they send you a custom price that covers their full diet plan.
Keep in mind that bigger animals eat more, which will reflect the price. Nom Nom currently offers 20% off on your first order, and they also have a discount if you are ordering for multiple pets.
Is NomNomNow good for my Dogs?
Don't worry all ingredients are cooked individually on low heat and then combined into perfectly balanced meals. This cooking process ensures that all nutrients stay inside, which leads to a healthier diet. NomNom dog food is a good diet for your dog.
Is NomNomNow raw?
No, all ingredients are cooked individually on low heat and then combined into perfectly balanced meals. This cooking process ensures that all nutrients stay inside, which leads to a healthier diet.
Is NomNomNow company legit or a scam?
Yes, NomNomNow is 100% legit. They offer pet food formulated by a vet nutritionist to revolutionize your pet's diet. All ingredients are fresh, and the recipes are created to let your furry friend thrive.
What does it cost to subscribe to NomNomNow pet food?
The price depends on your pet's age, breed, activity, and other factors. It starts at $27 per week.
Click here to check NomNom prices from the company's official website:
Is nom nom pet food human grade?
Yes, NomNomNow uses human-grade ingredients, which means your pet is eating only the best quality food.
Who is behind NomNom pet food?
NomNomNow was founded in 2014 by Nate Phillips, Zach Phillips, Alex Jarrell, and Wenzhe Gao. Today, the team has many more members, but Nate Phillips remains the CEO.
Has nom nom dog food been recalled?
No, NomNomNow dog food hasn't been recalled
What are the ingredients of Nom Nom pet food?
Nom Nom dog food is made with meat, veggies, eggs, mushrooms, brown rice, fish oil, and a vitamin mix. It's everything your four-legged best friend needs to thrive.
Nom Nom dog food is made with meat, veggies, eggs, mushrooms, brown rice, fish oil, and a vitamin mix. It's everything your four-legged best friend needs to thrive.
How Does Nom Nom Dog Food Delivery Work?: signing up for Nom Nom pet food delivery reviews
Because each delivery option is personalized for your pet's needs, the sign up includes several questions about your dog's breed, age, activity level, weight, ideal weight, etc.
It does take a little time to enter the details, but that just shows how much they care about providing exactly what your dog needs for optimal health.
Once you go to the website you are asked to enter your name and email address to create an account.
Then, of course, they ask for your dog's name. You can enter additional pets (they have cat food, too) after creating the first profile.
Enter your dog's current weight and ideal adult target weight, along with his or her age, helping the Nom Nom team customize the food delivery portion that's right for you, which also determines your unique cost per meal: smaller dogs = less food.
You're then asked to pick an ideal recipe, but you can mix later on in the process if you think your pup would like some variety in her freshly cooked meals.
At the bottom of this screen, there is also an option to choose full meals or half meals.
The half meal choice is great for transitioning your dog to a homemade diet, but also great for budget-conscious pet parents who choose to continue to mix the fresh cooked dog food with dry dog food their pups still love.
Mixing is a good way to add healthy fresh ingredients and reduce the cost that a weekly delivery of food would be.
CLICK FOR BEST PRICE
In conclusion: NomNom pet food delivery Reviews:
Nom Nom pet food are a great option for dog owners who want to ensure their dogs get a balanced and healthy diet.
They've got a versatile range of recipes that will be customised to meet each dog's individual needs. You can have peace of mind knowing your dog's food has been created use high quality, fresh ingredients in recipes formulated by vets.
With regular deliveries, you won't ever need to fret about running out of dog food again. While they provide a premium service, their fresh dog meals represent good value for money
Your four-legged pets deserve a diet that will make them healthy and strong. Unfortunately, due to highly processed ingredients, many canned foods and kibble are not ideal. If you are looking for a healthier alternative, Nom Nom is an excellent choice.
Nom Nom pet food is made with fresh ingredients rich in nutrients. They are sourced sustainably and then cooked individually on low heat to ensure maximum nutrient preservation. The ingredients are then mixed, following recipes developed by a board-certified vet nutritionist and a team of in-house PhDs.
All portions and recipes are tailored to meet the needs of your pet. That's why it is essential to fill out the questionnaire when signing up as accurately as you can.
Everything goes into the equation, from age, breed, weight, activity level, to any diet preferences and restrictions. That way, Nom Nom can offer you the best dietary solutions for long term health benefits.
One of the biggest advantages of Nom Nom is that they are not another soulless pet food company looking to sell their products. They take a holistic approach to your pet's health, and they really want to help you make their life as good as possible.
That's why you can always contact the customer support with any questions, and they'll try to work out a way to help you and your furry friend.
With healthy food, proactive customer support, flexible service, informative blog content, and free delivery, we have to say that Nom Nom is an excellent option for all pet owners looking to improve every aspect of their dog's or cat's life.